Arria Design Group
21 July, 2013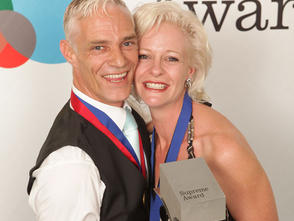 Sheer hard work and tenacity helped a Christchurch couple scoop the 2013 Pride In Print Supreme Award with an innovative postcard of the highest quality.
Arria Design Group Limited, Albany, designed and produced a translucent plastic postcard that allows light to shine through photographs of beautiful scenery. The winning card shows a photograph of a native Tui bird against a backdrop of the Milford Sound.
The production process is unique and proprietary to Arria Design Group, which incorporates Creative Juice (design/branding division) and Foster Screenprinting (print division). Matt Foster is director of the Print Division of Arria Design Group.
Having won Gold at Pride In Print previously, Matt says winning the Supreme Award is the highlight of his 27 years as a screen printer.
"I have dreamed of being awarded a Process or Category Award. This year's recognition of our entries (16 in total) is beyond anything I could have hoped for; seven Highly Commended, seven Gold, two Category Awards (Industry Development and Display Print) and the Supreme.
"It is an incredible achievement for a small business and team of dedicated staff. Our team are in awe of our achievement and can recognise why we push to improve and perfect the smallest detail in all procedure in the factory."
Matt used his screen-printing trade experience to develop a way of working on multi-layered printing on both sides of "glass-clear" polycarbonate, creating stunning depth effects, transparency and opacity. Their production methods are kept strictly confidential but the effect is to create something out of the ordinary. It has immediately paid commercial dividends.
Born and bred in Christchurch, Matt Foster with his wife Adie, is the third generation of Fosters to have established printing companies in the city.
His grandfather Ronald began the legacy in the 1960s with Foster Nameplates & Signs Ltd. Matt's father Tony created Markit Graphics Ltd and latterly Foster Graphics in the 1980s to specialise in aluminium name plates, self-adhesive labels, posters and signage.
Tony was the first person in New Zealand to conquer the technique of printing on to polycarbonate plastic, a skill refined by Matt when he created Foster Screenprinting in 2000, leading to the development of the "see-through" techniques that led to the Pride In Print Supreme Award win.
The desire to "go it alone" led Matt and Adie to move to Auckland in 1998 where they faced some tough years to get established. Hard work, working to a tight budget with no debt and building up a solid reputation helped the business to survive and then make it through the recession. Ten years on, with a growing family, the Fosters moved back to Christchurch to be closer to extended family. Matt took on a sales role in the business, appointing a manager to oversee their Auckland operation.
When the earthquakes of 2010 and 2011 devastated the city and their home, the Fosters moved back to Auckland.
"Despite everything, we think we are exceptionally lucky," says Matt. "We have survived, come through and now won this award. It rewards everything we have done, and everything my father and grandfather achieved before us."
Matt says they are having incredible results working with their marketing division to develop their products for the international marketplace.
Arria has just taken over control of its distribution channels and has about 30 outlets established here. They have just signed an agreement with Sydney Opera House to use its images on a card range. Agents have been appointed in New York and London to negotiate opportunities with iconic institutions such as Kew Gardens, the National Gallery and the Empire State Building.
"We are having incredible results working with some of the biggest brands and attractions in the world. There is a massive buzz whenever anyone is presented with our marketing campaigns and begins discussions about how we can enhance their business or brand with our products. It has always been an ambition of mine to manufacture for international clients and it is very exciting to have this unfold before my eyes with our team.
"New Zealand companies big and small can compete internationally utilising our ingenuity and care for clients needs. I have beaten out Chinese manufacturers competing for my clients in pricing, service and just the will to do what it takes to make it work.
"I love to see Kiwi companies succeed on an international scale and particularly the small guys; we can adapt and change quickly to new challenges. So long as you are prepared to stand behind your services and products and you make sound decisions," Matt says.
A PrintNZ member since 2004, Matt is a firm believer in formal training and is about to sign a new apprentice into training.
"Finding staff that are keen to learn a trade and prepared to apply themselves for the term of an apprenticeship is difficult. When you do find them we need to look after them and nurture that attitude."
Pictured are Matt and Adie Foster.

Contact Arria Design Group
Phone: 09 443 3068 | Email: Matt Foster on matt@fosterz.co.nz | www.fosterz.co.nz