Apprentices' success celebrated at recent graduations
Apprentices' success celebrated at recent graduations
14 March, 2017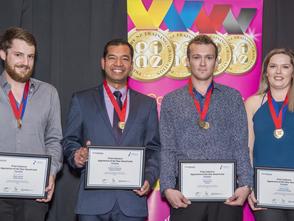 Apprentices of print and related industries celebrated their achievements during the recent Training Graduation hosted by PrintNZ in Christchurch and Auckland. Proud graduates filled the venues to receive their well-earned awards and qualifications from levels 2 through 5.
Ruth Cobb, general manager of PrintNZ, began the awards ceremony by welcoming the trainees who completed their studies last year and those who have supported the apprentices throughout the duration of their studies.
"Welcome to the trainees who successfully completed studies in 2016 - it is all about you today. I also wish to extend a special welcome to the many supporters here today - the trainers, employers, friends, and family - they have all contributed to the success of each trainee so we want to acknowledge their attendance today" expressed Ms Cobb.
Ruth explained that often people outside the print industry only associate print with three areas and don't recognise the many other products produced within our industry.
"Everyone gets the obvious ones like books, newspapers and magazines, but there are so many other things being produced by our industry every day that many take for granted such as labels, street signs, packaging – imagine going to the supermarket if there was no printing" says Ms Cobb.
"Our industry requires skilled workers to produce excellent products and today that's what we are here for - to celebrate those people who have made a commitment to our industry by undertaking a training programme, and the employers that have recognised their talent and provided them with the opportunity to do so."
"Seeing the number of qualified staff entering the industry is encouraging as this is a tangible sign that print is an industry with a strong future"
The qualifications aren't only for manufacturing, they recognise all areas that are essential to business success.
"These aren't just trade qualifications like printing, packaging, print finishing and direct mail - it takes a team to run a successful business and each of those team members has their own area of expertise. So today we have graduates that have completed programmes in sales, business, health and safety, competitive manufacturing, first line management and the print management diploma."
"It is the combination of all these skills that sees our industry produce fantastic, award winning, world class work that is seen and used every day"
The following special awards were also announced:
Apprentice of the Year Finalists:

Wade Jones - Labelmakers Ltd, Hamilton
Ngatokoa Kaokao - Jenkins Freshpac Systems Ltd, Tauranga
Taryn Gannaway - Beacon Print Ltd, Whakatane
Ryan Fraser - Rocket Print Ltd, Auckland
Robert Kemp - Brebner Print, Napier
Brett Pulford - Beacon Print Hawke's Bay Ltd
Myra Anderson - Printing.com Wellington
Robert Pearce - Pakworld Ltd, Christchurch
Frederick D'Rozario - Images Unlimited, Christchurch
Hannah Eades - Goose Screen Design, Christchurch
Nicholas Ball - Coveris, Christchurch

Apprentice of the Year Top 5 Finalist: Robert Pearce, Pakworld Ltd – Christchurch
Diploma of Print Management Finalist: Graham Simpson, Wellington City Council - Wellington
Trainer of the Year Finalist: Jared Maxwell-Smith, Electronic Imaging Limited - Christchurch
Training Company of the Year Finalists: Hally Labels – Christchurch, Kiwi Labels - Christchurch, Electronic Imaging Ltd - Christchurch, Fairfax Media Christchurch
Top Binding and Finishing Apprentice: Elisha Pahia, PMP Print Auckland


Further finalists in each category will be announced at the North Island Training Graduation in Auckland in 22 March. The overall Apprentice of the Year winner, Training Company of the Year and Trainer of the Year will all be announced at the Pride in Print Awards gala dinner on 12 May in Christchurch.
2017 marks the third year that PrintNZ has hosted training graduations which recognise the achievements of the apprentices and trainees in the print and affiliated industries. Over these years we're proud to celebrate the achievements of over 500 trainees in various fields who are ensuring print in New Zealand has a great future.
Special thank you to BJ Ball Papers, Fujifilm and Tharsten for your support in making these industry training events possible.
Further information about upcoming training events is available on www.printnz.co.nz/events
-ends-
Photos are available on our Facebook page.
About PrintNZ
PrintNZ is the association for the print, packaging, and visual communications industries. Members have access to industry relevant employment, legal and health and safety resources along with regular news updates from the industry.
For more information, high resolution photos and interview opportunities please contact:
Darren Perkins
Marketing & Communications Executive I PrintNZ
+64 9 265 2090
www.printnz.co.nz
Awards presented:
National Certificate in Binding & Finishing

National Certificate in Fibre Board Packaging
National Certificate in Reel Fed
National Certificate in Sign Making
National Certificate in Print
National Certificate in Occupational Health & Safety
National Certificate in Business Administration and Computing

National Certificate in Occupational Health & Safety
National Certificate in Sales
National Certificate in Printing (Digital Processes for Print)
National Diploma in Industry Management