Forum and Graduation take shape
20 February, 2017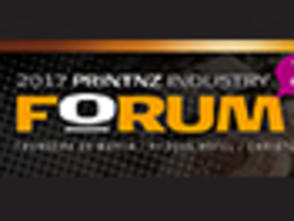 A renewed focus is adorning PrintNZ's upcoming annual Forum, with the 2017 event to be held independently of the Pride In Print Awards night and further enhanced by the inclusion of the annual South Island Graduation Ceremony.
To be hosted at Christchurch's Rydges Hotel on March 9, the Forum and South Island Graduation Ceremony are being given a unique pride of place through the move, explains PrintNZ general manager Ruth Cobb.
"Having consulted with our members, there was a feeling that running our Forum on the same date as Pride In Print made for too long a day -- both events carry a certain magnitude and intensity, and require a sustained focus from attendees," says Ms Cobb.
"So we have decided to reintroduce our own unique event this year in Christchurch.
"Following the Forum -- at which we expect to host at least four, high-calibre speakers -- we will then recognise every PrintNZ trainee in the South Island that has passed a qualification at any level in 2016, in a formal function in front of family and colleagues.
"The function will also see the top-five national finalists for the Apprentice of the Year as well as finalists for Trainer of the Year and Training Company of the Year unveiled, and presentation of the national Diploma of Print Management Student of the Year award."
Following the subsequent North Island Graduation Ceremony at Auckland's Grand Millennium Hotel on March 22, Ms Cobb says the winners of the PrintNZ Apprentice of the Year Award, Trainer of the Year and Training Company of the Year will continue to be announced at the Pride In Print Awards -- this year being held at Christchurch's Wigram Airforce Museum on May 12.
Ms Cobb expects the speakers at this year's Forum to continue the momentum developed in previous years, by providing delegates with a unique insight into new technologies and developments affecting their businesses.
Among confirmed speakers are:
Landa Digital Printing Asia Pacific and Japan sales director Michael Mogridge -- Nanotechnology
Assignment Group New Zealand national chief executive Peter Biggs -- brand management
Kaon Security senior consultant Mark Micklefield -- cyber security
TSA executive director Kellie Northwood -- effectiveness of print communication
Landa Digital Printing's Mr Mogridge is aiming to enlighten attendees as to how Nanographic Printing presses use the "unprecedented capabilities of nanotechnology to turn digital into profitable mainstream printing".
"Allowing an entirely new paradigm for efficient and profitable printing, Nanography enables printers to migrate mainstream applications to digital production," he says.
"For the first time, they do not have to choose between the versatility and short-run economics of digital printing and the low cost-per-page and high productivity of offset printing -- now they can have both."
Nanography is creating new business opportunities for providers of any type of printing in the commercial, packaging and publishing markets, says Mr Mogridge.
"In today's market, quick turnaround, variable data, short‐to‐medium run lengths account for the vast majority of commercial printing jobs. But between the low-volume offering of digital and the high‐volume offering of offset, there is a gap where neither printing technologies is profitable.
"The Landa Nanographic Printing process is a total game changer that enables printers to leverage the flexibility of digital printing for mainstream applications, thus offering a solution for the gap."
Assignment Group's Mr Biggs intends to share his perspective on how brands and organisations can "stand out and win" in a "hyper-wired, connected, shrinking-attention-span and competitive world".
"Every organisation, every brand is coping with significant disruption at the moment -- really driven by technology," he says.
"Nobody is having it easy, success is extremely fragile and enduring success is particularly fragile.
"The old models that everyone worked to, both in terms of external communications but also internal culture, are no longer relevant. Every organisation is having to grapple with this extraordinary opportunity -- as well as a challenge."
One of the main misjudgements in this space is that "any business model will endure successfully over a long period of time", says Mr Biggs.
"Work on your own culture first -- how is your own culture distinctive and what is it that drives that?
"For an example, productivity is not an issue of the workforce, it is an issue of leadership, because leaders aren't defining a galvanising purpose. Given that, how does the organisation become truly and enduringly distinctive, all the while referring back to the purpose?"
Providing attendees with examples of key brands that "were on the verge of disappearing that have been reinvented" -- a key one of which will be Old Spice -- Mr Biggs says a goal of his presentation is to aid the print industry to demonstrate it is still relevant.
"Every commentator would have you believe that the print industry is dead -- a bit like the television was dead or there were predictions that the film industry would die with the arrival of VCRs. It is about reinvention really and a demonstration of relevance."
Kaon Security's Mr Micklefield will provide pertinent recommendations for businesses while bringing key cyber security topics "to life", in an address specifically tailored to the print industry, says colleague Andrew Corbett.
"Cyber security became a board-level, hot topic in 2016 for many reasons, but the most obvious being that New Zealand organisations are not immune to the growing threats from organised cyber crime," says Mr Corbett.
"There was not any sector of industry that did not suffer from extortion through ransomware or C-level e-mail attacks.
"The print industry will undoubtedly continue to face these issues in 2017, but the changing regulatory landscape will also have an impact on how customer data needs to be protected.
"Kaon Security will present at the PrintNZ Forum on cyber security and how the threat landscape and data protection legislation will require that cyber security becomes an essential part of enterprise risk management."
Key points expected to be covered by Mr Micklefield include:
understanding the current Australia-New Zealand threat landscape
lessons learned from the types of attacks experienced in 2016 and how these have impacted electronic business
the meaning of mandatory disclosure of data breaches and how New Zealand legislation is likely to change
improvements the print industry needs to make to be more resilient and reduce the risks of reputational damage
how to change culture and ensure security becomes an enabler for greater business agility
TSA's Ms Northwood will provide delegates with passionate advocacy as to the effectiveness and sustainability of print media as a relevant communication channel, says colleague Victoria Fratin.
"Marketing has never been more challenging for, not only marketing departments, but also company executives who are analysing marketing spend across a range of media channels," says Ms Fratin.
"What role will traditional and non-traditional media spend play in communicating to our customers, engaging customers and converting sales?
"Print is one of our longest-serving media channels. However, as a traditional media it is facing an identity crisis in a digital-frenzied media environment."
With insights based on verifiable facts and research, as well as on her own experience, Ms Northwood will explore many dimensions of the effectiveness of print in terms of "efficacy, brand equity, path to purchase and return on investment, and how it all works in a multi-channel communication world", adds Ms Fratin.
In addition to delivering a case study on global and local innovative print campaigns, Ms Northwood is expected to examine the following key questions:
what is the right balance between traditional and non-traditional medias?
how does print lead to action and engagement?
how do we measure the results and performance of traditional media?
Ms Cobb adds that addressing those three latter points is to also be the main focus of the industry training calendar this year.
"Education is a key ingredient to ensuring that our industry has businesses that will survive into the future and we encourage as many people to take advantage of the chance to see these four speakers in one place for a small price," says Ms Cobb.
Registrations are open now at www.printnz.co.nz/events.