Supreme Award win for Southern Colour Print
19 May, 2016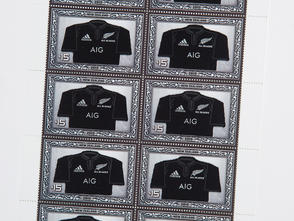 Dunedin-based Southern Colour Print has fully illustrated the pride, initiative and quality of workmanship in the South by earning this year's prestigious Pride In Print Supreme Award.
In a glittering ceremony at Auckland's SkyCity on May 13, the Adidas jersey the All Blacks took to World Cup triumph in 2015 became a repeat winner by also taking out the Industry Development Category as well as earning an individual Gold Medal.
The stamps featured mini cut-outs of the actual World Cup-winning jerseys. Such out-of-the-box thinking to use the materials worn by Richie McCaw, Kieran Read, Conrad Smith and company simply stunned the judges who said they had never seen the like before.
The end result was a stunning stamp, yet perfectly useable for postage. Stamp production will never be the same again after this.
Southern Colour Print production manager Mick Cullen said a "let's do it!" approach won the day.
"We looked at this and said 'how do you print on a rugby jersey material'? It was something different and we took it on. It wasn't easy at all but we made it work.
"We had to choose different processes because we wanted the colour to be just right. Then we had to die cut it and fit it.
"We compete on an international stage. Every year there is a different challenge and we take on the attitude 'let's do it'."
This year's awards campaign theme -- "Empowered by Print" -- highlighted the impact the printed media has in every sector of New Zealand's many industries. This is reflected in the work of the various category winners.
For further information, please contact Pride In Print Awards manager Sue Archibald (021) 663-881