Buller Printing
15 January, 2012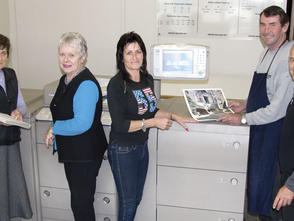 Set amid the lush surroundings of the West Coast, Buller Printing Ltd is a thriving company that caters to a wide range of primary industries.
With a staff of five, the Westport company is led by managing directors Tom and Robyn Gray. The company produces digital and offset work for local, regional and national clients serving the gold mining, fishing, farming, coal-mining, tourism and adventure industries as well as thriving port services, engineering companies and other service industries.
Tom says they spoil their clientele with fantastic service and are rewarded with "massive repeat work", ensuring their continuing success and growth over many years.
"But you've got to be sharp because the buggers shop around," Tom says. "You have to work on the big picture, work on continuity and repeat business over the long term to make a buck out of this industry."
Buller Printing Ltd was established in 1959 after the local newspaper ceased operations as a subsidiary of the Nelson Evening Mail. A former newspaper printer's assistant seized the opportunity to start a commercial printing enterprise which has expanded to cater to the needs of the growing population.
In a typical day Buller Printing might produce small-run colour jobs, perforated and numbered operations books, letterheads, business cards and a variety of digital work and 'off the street, front of house' work.
"Pretty much everything you could think of really, considering that we cater for lots of small retail operators who continually buy small and often, to the large national clients who demand lots of long-run stuff which sometimes requires double-shifts well into the night," Tom says.
Tom started his career in the industry by applying for a position as a letterpress printing machinist. After qualifying with trade and advanced trade certificates Tom continued with correspondence and achieved his advanced trade cert in offset printing at a time when technology was "surging ahead in leaps and bounds".
"This laid the foundation to my pathway to a lifelong business in commercial printing spanning a total of 47 years to date," he says.
Tom and his wife Robyn love the West Coast lifestyle.
"For a start, I can actually walk to work, go home for lunch and go catch a trout or shoot a deer ten minutes from knock-off, or be mountain-biking within minutes from town in the most scenic and challenging mountain environments.
"I can tip my hat and say gidday to any of the 10,000 people who live in my town or district and get an instant, friendly response. The people are amazingly friendly and because I have always been honest in my dealings and have treated everyone I have met as an equal and with respect, I enjoy the fruits of the entire population's support in my business.
"Consequently I run a successful and popular business and while some might think it strange, I have never had to go call on a client or seek new business by foot-slogging or door-knocking. My clients come to me and I maintain the confidence in all who have used my services by verbal contact via phone or regular personal emails."
Tom's future goals include seeing the business continue to grow by introducing fresh blood with the same enthusiasm and desire for offering service and quality to a supportive long-standing clientele.
"I'm currently preparing and initiating my exit plan by inviting expressions of interest from anyone out there who is primarily a trade qualified small offset machinist who has extensive knowledge in pre-press and middle management. They need to be keen to take our longstanding business to the next level of success in an area of the country that is protected by an 'economical bubble' unique to the rest of New Zealand in these current times of economical uncertainty. Consequently our company offers a sound guaranteed future along with an 'above average' return on investment."
Contact Buller Printing: 03 789 8858 or email buller.printing@xtra.co.nz
Pictured from left: Glenysse, Robyn, Karen, Dennis and Tom are all looking pleased with the results from one of their digital printers as they inspect colour samples onto synthetic stock.