Gravure Packaging
15 October, 2013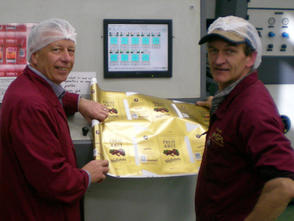 Gravure Packaging has built a solid reputation as a supplier to iconic Kiwi brands such as Whittaker's. Key to their success is a strong focus on capital investment, staff training and delivering exceptional service with speedy turnarounds.
Gravure Packaging (GPL) is one of only a handful of companies in New Zealand to use rotogravure printing to produce flexible packaging.
With a staff of 25, GPL is based in Petone, just north of Wellington. The business was established in the 1980s by Gunter Amelung. When Gunter retired two years ago, director Greg Chapman took over the helm, having worked in the business since 2000.
Operating in a predominantly flexo market, Greg says gravure printing enables the use of bright and glistening inks with a "real metallic sheen".
The company has a particular focus on the shrink sleeve market. GPL prides itself on meeting short lead times for repeat work that are reportedly "unmatched" by other flexo packaging suppliers in New Zealand and Australia.
GPL has received accolades for its shrink sleeve work, including a gold medal in the Industry Development – Innovation category at the 2013 Pride In Print Awards for its entry 'Naughty Cow mock frosted glass shrink sleeve'.
GPL has won 27 gold medals and 19 highly commended accolades since first entering the Pride In Print Awards in 1997. In 2013 the company also won gold and the Process Award for its entry 'Whittaker's Fruit and Nut 200g'. In 2012 they scooped gold in the Export category for 'Good To Go drinking yoghurt', 'Woolworths Select soap wrap' and the Innovation Award for 'V Iced Coffee UV Protective Shrink Sleeve.'
Greg says GPL enters the Pride In Print Awards to add credibility to the company's quality and innovation claims.
"For customers, it is great they see they are getting gold medal quality print. For staff, they get a buzz from seeing their work meeting the demanding standards of the judges. For GPL, it is a useful marketing tool for prospects and it validates our claims of high quality and innovation."
The GPL team enjoys turning customers' ideas into reality.

"Much of our work is in the personal care, food and beverage sectors so it is great to see food packaging like the Whittaker's chocolate wrappers and juice products like Fresh Up and bar soap wraps in our supermarkets and cupboards at home," Greg says.
"It's a real buzz seeing the products we make in shops all over NZ and Australia."
Recently the company produced V-Iced Coffee sleeves, made with innovative light blocking systems to extend shelf life for the product.
Other interesting jobs have included the Whittaker's L&P white chocolate label, which features a new-look design as part of the well-known kiwi brand's product launch. This follows on from the production of the Whittaker's white raspberry block label last year, in support of breast cancer research.
Gravure Packaging uses in-house and formal training to ensure its staff has the right skills. The business has put several printers through gravure apprenticeships and recently signed another print apprentice into training through PrintNZ Training.
"Having skilled staff and solid training is essential to making quality products.
"Our systems and customer specifications are detailed and we need well trained operators at every stage of manufacturing, to make sure the quality of our products is top notch. Printing is a specialised trade and we have a range of trained printers from various disciplines," Greg says.
At GPL, investment is an integral part of improving productivity and efficiencies. Investment in equipment is significant, ranging into the millions of dollars. Often it is the control systems on the machines that require updating to incorporate refinements.
"The variety of products required and range of requests made means we are often looking for machines with a broad range of capabilities and a generalist feel, rather than a really specialised machine dedicated to a narrow range of work.
"Profits are reinvested into the company regularly to keep our equipment current," Greg says.
"Our success comes from maintaining high standards in all aspects of our daily life at GPL.
"High manufacturing standards, high quality standards, high alignment to operating standards, high levels of integrity with customers and suppliers.
"Doing the small things well means the big things look after themselves. When all of the GPL team work together with this focus, then success is guaranteed."
A PrintNZ member since 1994, Gravure Packaging utilises services as required.
"PrintNZ offers support in a range of critical elements of business, particular strengths being industrial relations, and training. The conferences are a good way of meeting other people in the industry and getting a gauge on the health of the industry," Greg says.
As for future business plans, GPL intends to broaden and add value to its offering, to meet targets of significant growth over the next 10 years.
Photo caption: Gravure Packaging director, Greg Chapman, with printer, Slade Booth.
Contact Gravure Packaging Ltd
Phone: 04 5688467 | Email: info@gravurepackaging.com | www.gravurepackaging.com