Orangebox
22 January, 2014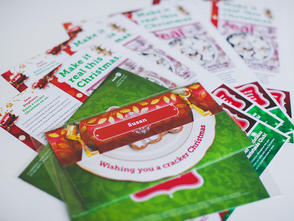 Creating engaging, personalised print and online direct marketing campaigns for well-known brands has resulted in double-digit growth for Orangebox. Not to mention significant profits for their clients.
After spotting a gap in the market for a "nimble DM player", Stephen Bennett and Thomas Subritzky established Orangebox as a 'start-up' in Wellington in 2003. Increasing customer demand saw Orangebox move into the Auckland market in 2008, purchasing one of the country's first mailhouses.
Ten years on, with a staff of 50, Orangebox works with a wide range of clients, including Food Stuffs, Boundary Road, Pharmacy Brands, Plunket and Flybuys.
Orangebox use variable data to create multi-channel campaigns that include print, email, SMS/text, QR codes, personalised URLs and social media. They manage the campaign from start to finish; from design and database management to delivery, tracking open rates, measuring responses and reporting back to clients.
Auckland director, Thomas Subritzky, says Orangebox campaigns have achieved significant results for their clients.
"We did a mailing last Christmas for a client offering special deals for a Christmas night sale. It caused traffic jams in our retail client's car parks around the country. The key was timeliness and relevance," he says.
"Good DM is targeted and tailored to peoples' interests or buying patterns – so it is something they are interested in. It is also easy to test different approaches/messages accurately, cheaply and regularly.
"I think that there still huge opportunities for players with integrated offerings," Thomas says.
The key to personalised direct marketing is having good data. This requires brands to have a means of collecting data – i.e. through loyalty cards or survey forms, while making sure it is relevant for use in marketing activity and as up-to-date as possible.
Orangebox have invested in technology – both hardware and software – to ensure they can meet client expectations. Their hardware includes the latest digital print technology
"Technology is critical to our business. With a multi-channel offering, we also need to ensure that we can work seamlessly online and off to fit our customers' campaign requirements."
Direct marketing campaigns vary in complexity, with some involving significant amounts of customer data, requiring an eagle eye for detail.
"We handle a direct mail campaign for a major retail client that has over 770 data and graphic variations and we print the job in full colour in one continuous run. The data contains flags that determine the offers clients get and the geographical information contained in the packs (e.g. their location drives the store details)," Thomas says.
Orangebox pride themselves on delivering excellent customer service while maintaining a fun work environment.
"We recently did a video to celebrate our 10th anniversary and the constant theme that came through is our people and the relationships we form.
"Culture has been incredibly important to us and one of the things we are most proud of is our staff retention – we still have our first two employees," Thomas says.
"In our business things can and do go wrong from time to time. It is critical that we have skilled staff who know what they are looking for to maximise the quality of our work and minimise the likelihood of an error."
Orangebox joined PrintNZ in 2008 and make use of membership services
"I think that it is important to be part of an advocacy group such as PrintNZ. We also have access to great resources and have used PrintNZ for employment advice and are starting to use training programmes.
"I think it also assists with your professional credibility by being a member and of course it provides some great networking opportunities," Thomas says.
Long-term, Orangebox is keen to become New Zealand's leading mailhouse.
"Our aim is to continue our double digit growth and make sure we have a sales mix that better reflects our multi-channel offer."
Contact Orangebox
09 415 3699 | thomas@orangebox.co.nz | www.orangebox.co.nz