PPS Ltd – Engineering Solutions
05 March, 2013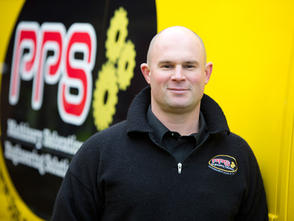 Manawatu-based company PPS Ltd specialises in servicing and relocating all manner of machinery.
Also known as Print & Packaging Services, the PPS team provide a nationwide service with a focus on fault finding/service engineering and the relocation and installation of both heavy machinery and more fragile equipment including digital and finishing equipment.
Manager, Brian Puddick, established the business in 2003 after spotting a gap in the market for quality service at a fair price. He had previously been approached about establishing himself as an independent contractor who could give unbiased advice and service on any machine, whatever the brand.
"PPS completes a huge variety of work," Brian says.
"We recently completed a job extracting and containerising a Roland 806 in Sydney, Australia. This job required more than 500 man-hours to complete.
"This machine was by far the dirtiest we've ever worked on and also had the most complicated wiring layout. Literally hundreds of large cables had to be identified, marked and pulled back in order to split this machine ready for relocation," he says.
PPS's work servicing all manner of print machinery highlights the importance of operator vigilance and regular maintenance.
"The most common causes of machinery issues are wear and tear and operator error," Brian says.
"It is very easy for an operator to make a mistake if they are distracted and forget to do something up, or they don't double-check everything before running a machine. Maintenance is also very important to keep machinery in top condition and get the best results from it."
The PPS team pride themselves on a can-do attitude.
"We go out of our way to meet our customers' needs, demands and expectations. Getting the job right is what counts.
"I love working in this industry as it is results driven. If you do a good job, you get more work. It's a great feeling to solve a problem with a machine and get it back into production," Brian says.
PPS places a huge emphasis on skilled and trained staff.
"If the guys aren't up to it then you can have all sorts of trouble. If the staff are willing to learn, then training is provided. PPS is always open to new ideas and initiatives when it comes to cross-training the guys so they can cover all bases when it comes to customers' requests."
Having joined PrintNZ in 2005, PPS makes full use of member services when required.
"We believe it is important to belong to PrintNZ and to utilise the information and services that they make available. We have used the Health & Safety policy information and have also phoned for employment advice."
Looking ahead PPS has firm goals: to continue to provide a great service at a fair price, to continue to exceed customer expectations and to continue to build a well-organised and customer-focused business.
Contact PPS Ltd – Engineering Solutions
06 359 4679 | brian@pps.net.nz | www.pps.net.nz |