Printcraft 81 Ltd
04 January, 2012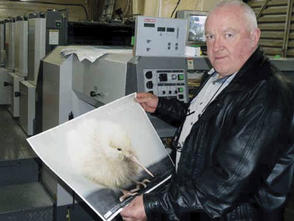 Printcraft 81 Ltd pride themselves on delivering outstanding customer service and with their support of local initiatives, the business has a strong profile in the community.
Company director, Lance Johnson, bought the existing print shop in Masterton with a business partner in 1981. Initially the business had six staff but over the years it has expanded to a team of 17 full time staff and become one of the largest print providers in the Wairarapa, with clients in Wellington and nationwide.
Lance says while these are very challenging times for the industry, they are delighted to have just come off a good year.
"We are good at what we do. I surround myself with people that exceed my expectations. Also, anyone who rings speaks to a real person, not a machine, and I am available 24 hours a day, seven days a week to all customers, old and new.
"I love getting great feedback about brilliant service," Lance says.
Printcraft delivers a full range of services including design, print, print finishing, packaging and delivery. To keep up with changing technology their range of equipment includes the latest Macs, a Ryobi Perfector Offset 5-colour A2 press, a Heidelberg GTO, a large Heidelberg Cylinder for diecutting and a Wohlenberg Guillotine.
Printcraft prides itself on being self sufficient, in order for them to compete time-wise and meet tight customer deadlines.
Printing runs in the Johnson family. Lance's grandfather, John Forbes Orr, served 40 years at Government Print as a compositor starting in July 1914.
"I guess that was a good reason to leave school and follow in his footsteps," Lance says.
Printcraft are keen supporters of workplace training.
"Skilled staff is what business is all about," says Lance. "Having confidence in them to produce the goods on time and the correct training in the workplace to our way of things is paramount."
Lance and his wife Michele, who also works in the business, say the Wairarapa is a great place to live.
Printcraft are strong supporters of community initiatives. Recently they printed 1000 posters of a rare white kiwi chick hatched at Pukaha Mount Bruce national wildlife centre. The posters, provided at no cost to Pukaha Mount Bruce, are now available for sale at various sites in the Wairarapa. The posters were printed on a new paper stock - Rockstock - a paper made from ground down waste stone, which Lance is very excited about.
The kiwi chick, named Manukura, is the 13th out of 14 kiwi hatched during the centre's most successful breeding season this year.
Lance says the Wairarapa is "our paradise, to live and to work."
"Printcraft gives a lot to local projects that help the Wairarapa improve its awareness - Pukaha Mount Bruce is one of those projects.
"Somebody famous once said 'the world is a great place and it's worth fighting for'. Pukaha Mount Bruce is very close to our hearts. Many businesses in the Wairarapa support the wonderful work they do, for our kiwi and many other native birds."
The team at Printcraft are looking to the future with optimism, with plans to launch a web to print service this year.
"This will enable our clients to create print documents online, when it suits them," Lance says.
"They will also be able to check and proof their existing archived work, request changes, upload new files, place orders and request quotes. It's all about making it easier and faster for our clients. Service!"
Contact Printcraft | phone 0800 774 683 | email lance@printcraft.co.nz