The Copy Press
30 June, 2015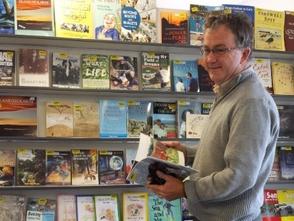 Sharing in the delight of writers publishing a book for the first time is all in a days' work for The Copy Press in Nelson.
With a staff of seven, The Copy Press provides a full range of design, printing and finishing services alongside their book printing service that specifically caters to individuals and small publishing companies.
Owner Dave MacManus (pictured) purchased The Copy Press as a going concern in 2003.
"At the time it was a copy centre that had just begun nibbling at the book printing end of the business," Dave says.
"We have since developed this side of the business while maintaining general print services. We have positioned ourselves as one of the printers to service the growing needs of writers who are taking the publishing of books into their own hands. We work with clients from idea through design, layout and production of the books."
The Copy Press operate a Xerox 1000, 800, a Duplo 500 perfect bookbinder and a range of finishing gear.
The largest single book run to date has been 2,500 with several reprints of the same title. The Copy Press provide an online bookstore to market and sell the books that range in topic from adult fiction to history, travel, poetry and children's titles.
"We enjoy helping others fulfil their dreams of publication and ensuring that their stories are told in the most engaging way possible, in a well-designed book. There's nothing better than handing over a consignment of books to an author and seeing the sheer delight on their faces," Dave says.
A reasonable number of writers that approach The Copy Press have no idea how to proceed with getting their book printed.
"Needless to say, considerable hand-holding is often required with first-time writers who know little about the printing business or the editing, proofing and design which must be undertaken to ensure their work is of a standard that can be published and marketed.
"We have a team of free-lance editors, illustrators and proof-readers that we can call upon as required. We also have a growing number of fictions writers in all genres including Colin Crump (brother of the better known Barry)."
Some clients arrive with handwritten pages in a shopping bag. This was the case with a book called 'Surveying the Antarctic' by Eugene Brian Fitzgerald - the story of a historically significant geological survey of the continent which had never seen light of day before.
"The raw material was two shopping bags of notes and photos. The client instructions – 'make me a book'. It was like being handed a treasure chest," Dave says.
Another job involved transforming a shoe box of documents and photographs into a well-designed and produced book of family history.
"Especially when one of the main characters in the saga was very close to death and the family wanted something put together urgently," Dave says.
The Copy Press enjoy fostering links in their community and for the past few years, have assisted Garin College students to produce their annual school magazine.
"We teach them to use InDesign, guide them through the design process including encouraging them to critique their work. We also demonstrate the printing process. Ultimately they have in their hands a high quality magazine which the students and the school are very proud of. Students have ended up with NZQA standards and a useful item in their portfolio. Several have gone on to tertiary studies in design. Their feedback has been that the experience with us has given them an excellent background to their studies, often putting them at an advantage over their fellow students."
Having skilled staff in house is very important to The Copy Press. They have recently taken on a new staff member who they plan to up-skill with the help of Industry Training Organisation Competenz.
Dave pinpoints several elements to running a successful business: vision, strategic thinking, good staff and being positive, patient and persistent.
Looking five years ahead, Dave says it would be a brave person who predicts the future for self-publishing.
"However, we aim to be New Zealand's most trusted producer of books to self-publishing authors and to have developed effective distribution and marketing processes to help our authors get their books to as large an audience as possible."
The Copy Press
P: 03 547 2972 W: www.copypress.co.nz