Vivid Images
04 January, 2012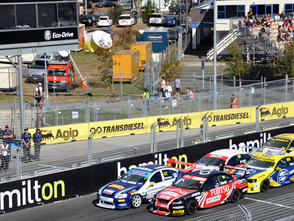 It's full speed ahead for Hamilton company Vivid Images, supplier of barrier graphics for the ITM400 Hamilton V8 Supercars event which attracts thousands of supporters each year.
Vivid Images specialises in wide format printing, including signage, banners, vehicle graphics, billboards, truck curtains, POS displays and posters.
Mike Kingdon, managing director, says of all the jobs they produce, the V8 sponsorship signage is the most challenging and satisfying to complete.
"We have to get graphics to stick onto concrete barriers, look good for TV for the weekend and be tough enough to deal with race cars hitting them," Mike says.
The Vivid Images team puts in long hours to produce the 1000 barrier graphics that measure 1 x 4 metres each. Previously the barriers were painted by a company in Australia, which was expensive and had its limitations.
"We have developed a system that works well, is fast to apply and dramatically expands what a sponsor can advertise in their space," Mike says.
With a staff of 10, Vivid Images has grown from strength to strength after starting out in 1994 as a one-man operation based in a one-room office in the Hamilton CBD.
Today Vivid Images produces work for a wide variety of clients using an array of equipment including a Jeti 3.2m solvent roll to roll printer, a Jeti 1.5m x 3.05m UV flatbed printer, a Mimaki JV5 1.6m solvent printer and a Seal 1.6 cold/thermal laminator.
Over recent years the company has participated in workplace training through PrintNZ Training and currently has one apprentice completing a Digital Print Processes programme.
"My staff is my biggest asset, so the correct training of them is extremely important, hence why we use the apprenticeship scheme through PrintNZ Training," Mike says.
Mike says he "fell into the industry with a thud".
"Running a business, in our industry, is a challenge which I love. The pace of it, including the quick turnarounds of jobs, the rapid changes in technology, and the developments our clients are making in design, are great to be involved in.
"Also, the people involved in industry are generally similar in nature and a joy to work with," he says.
Mike makes a point of staying on top of technology advances and thinking about how these could complement his existing services to clients.
"I regularly visit trade shows in other countries to look at the direction that technology is taking and try and work out if that will fit into New Zealand, and more specifically our client's needs.
"We concentrate on what we do and try to move/change to what our clients' want. I have no idea what other print companies are doing and have no interest in it. I believe too many companies worry about what others are doing and it is generally the downfall of them."
Vivid Images has been a PrintNZ Member since 2003.
"I use PrintNZ for support in legal matters regarding staff and the business as well as the apprenticeship scheme. They excel in both these areas and I believe they are a vital part of my business because of it," he says.
Mike plans to continue to develop Vivid Images into a 'one-stop-shop' for their clients.
"Through the financial crisis we consolidated with regards to machinery purchases. We reduced debt and concentrated on sales, marketing, and internal systems. We are now in a position to increase our print machines and are looking at what will fit into our business structure.
"We also have financial goals, however I am a big believer in working on your business products and service - get that right and the GP will look after itself."
Vivid Images | phone 07 8461950 | email michael@vivid.co.nz | www.vivid.co.nz