2018 Pride In Print Winners Announced: Apprentice of the Year, Trainer of the Year, Training Company of the Year.
2018 Pride In Print Winners Announced
11 May, 2018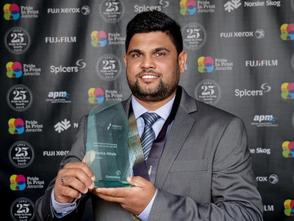 PRINT APPRENTICE OF THE YEAR WINNER
Dilanka Attale, Kiwi Labels, Christchurch
Dilanka Attale of Kiwi Labels in Christchurch was named this year's Print Apprentice of the Year.
In Dilanka's words "find your passion, never give up and make your success".
Honoured and expressing how much the award meant to himself and his family, Dilanka paid tribute to his employer, his trainers and the industry.
"I sincerely thank Kiwi Labels for putting me into this apprenticeship and also special thanks to my managers for sharing their knowledge in printing with me," he said. "They identified the extra interest which I had towards printing and let me shine. From the first day they have been very helpful and encouraging me -- always welcoming my ideas."
Describing Dilanka's achievement as "outstanding", Kiwi Labels general manager Guy Phillips said it was "reflection of the hard work and commitment Dilanka has shown right from day one".
"A proud moment for our company." Guy emphasised that training was of "great importance" to Kiwi Labels.
"We want to be able to support and mentor keen committed people. We also want to keep supporting our wonderful clients with the best staff.
"Training is a big commitment for both the employee and employer and we are 100% behind it. Upskilling and learning never stops. The benefit for us is offering our clients a quality product made by skilled and committed people."
PrintNZ general manager Ruth Cobb said the judges were blown away by Dilanka's thorough technical knowledge of the process alongside the real passion he exhibitied for the work he produces, the people he works with, the business he works for and the overall industry.
Dilanka was also named as the BJ Ball Packaging Apprentice of the Year and the Jenkins Group Label Printer of the Year.
On behalf of the entire industry, congratulations to Dilanka for his incredible achievements.
Trainer of the Year
This award recognises the person that has made a significant contribution to the training programme in their workplace.
Colin Lean, Logan Print, Gisborne
Colin Lean, who has previously been named both the Top Level 3 Sheetfed Trainee and Sheetfed Apprentice of the Year, leads by example and is a worthy winner of the Trainer of the Year Award.
Colin has continued his education with the Diploma of Print Management, while at the same time championing 12 apprentices through the business, including an Apprentice of the Year Finalist.
Colin spoke of the great honour in being named winner, while also playing down his contribution.
"I am only a small part in our company's training team, so I was proud to represent the whole team at Logan Print," he said.
"Our current apprentices are mentored daily by our former apprentices on the production floor. This support extends to our production engineer, pre-press team and senior guillotine operators.
"Of the 12 apprentices I have helped train at Logans, nine are still with us, which shows we are doing a great job and our staff want to be here. I hope we can do this for more apprentices going forward."
Colin added that he enjoyed working with the apprentices "to set realistic goals and then support the trainees to reach these goals".
Training Company of the Year
This award goes to the company that has made an outstanding contribution to providing training opportunities to their employees and recognises the importance of training to the future of the industry.
Lightning Labels, Auckland
Lightning Labels are a small business with a big heart for training and developing their staff. They have embraced training across their whole team and had five staff complete seven qualifications during 2017 and at least one staff member complete a qualification every year for the last four years.
Lightning Labels director Chris Goodwin paid tribute to their wonderful team for now being named winners.
"It's a team win for us; without the dedication and effort our trainees put into their training we wouldn't have achieved this wonderful result," she said.
"Being a small and privately-owned company we feel very proud to have achieved this and pleased it has been acknowledged within our industry.
Chris said her firm's commitment to training was benefiting both the business itself as well as empowering employees to achieve higher quality and output levels, and greater work satisfaction".
"We encourage our trainees to continue their education no matter what level they are at and it is not always [purely print-related]. It is this type of investment that will keep our company strong and rejuvenated well into the future."
Apprentice of the Year Sector Winners
Heidelberg Sheetfed Apprentice of the Year
Jordan Lawson, Huhtamaki, Auckland
Huhtamaki production manager Clinton Sampson describes Mr Lawson, as an "exceptional apprentice and a breath of fresh air with regards to attitude and leadership".
"Jordan started in 2012 as a factory aid and his ability to take instructions and execute them well stood out straight away," he says.
"He demonstrated a high level of responsibility and pride towards the smallest tasks and as his manager, you had to be impressed with everything he did. "He will go on to lead and teach other apprentices.
Jordan said "having that trade qualification felt like a major achievement in my life".
"Being able to come to work and see a massive and highly-specialised machine, and know that I could operate it was a great feeling to have."
"I was so proud to get that award, not only for myself, but also for the people that supported me. As clichéd as that sounds ... living through it myself, there's definitely meaning to it.
BJ Ball Packaging Apprentice of the Year
Dilanka Attale, Kiwi Labels, Christchurch
Kiwi Labels technical manager Andrew Thomson says the willingness of Mr Attale to learn and produce "exceptional" work makes him a well-respected member of the team.
"Dilanka initially started as a printer's assistant and established a great understanding of the flexo process and label production," he says.
"Dilanka's enthusiastic nature and high attention to detail landed him a position with our digital team where he rapidly developed his craft, producing exceptional award-winning product. He has a creative/innovative problem-solving ability and a great passion for his industry."
Dilanka says it was "incredible" to be named the BJ Ball Papers Packaging Apprentice of the Year and he was further delighted to win the Jenkins Award for Top Label Printer.
"My goals involve growing with the company and continuing to learn. I would like to use everything I learned throughout my education and career to make new innovations.
wrh Global Binding & Finishing Apprentice of the Year
Kelly-Ann Perry, Quality Print, Taupo
Such was the impression Ms Perry made when applying for a role that Quality Print owner Shawn Vennell says "I didn't want her to walk away" and promptly presented and offer of a role in the bindery..
"We are absolutely delighted that she has been recognised with this award."
Describing Kelly-Ann as absolutely fastidious, Shawn says "you never need to ask twice if a job is going to be finished on time".
Kelly-Ann says being named the Wrh Global Binding and Finishing Apprentice of the Year left her "quite shocked to begin with".
"To hear my name called for the top in my category, I was blown away, it was all nerves and OMG!," she says.
"I thought after making a U-turn on a teaching career at university that perhaps I would be in for years of some kind of work without reward. But switching to the trades from my original professional goal has been the best move for me."
Trust4Skills Reelfed Apprentice of the Year
Jordan Godsiff, Stuff, Christchurch
Stuff print manager Jason Laine says having worked closely with Jordan over a number of years, he cannot fault him as a person or as a printer. "He has an extremely bright future ahead of him."
"His mechanical skills see him as an asset, not only in print, but in the publishing and maintenance departments also, and he is always keen to advance his knowledge."
Emphasising that he loves "all aspects of printing and publishing/circulation", Jordan says it was "very humbling" to be named Trust4Skills Reelfed Apprentice of the Year.
"It was a great honour to win my individual Apprentice of the Year Award. I feel great pride but also, in saying that, I put pride into my work. I still feel I have a lot to learn from my fellow co-workers who have been in the industry for a combined 60+ years. They have so much knowledge and I wish to attain as much from them as I can, to make it to their level."
GAPF Digital Apprentice of the Year
James Garner, Print Central, Queenstown
Print Central company director Graeme Hastie says James quickly impressed as an employee. "He has good technical knowledge and really thinks about what the job entails -- he delves into it."
Mr Hastie says he was not surprised to see James do so well in the Apprentice of the Year Awards.
"I've seen his assignments and they are at a high standard. The technical training has definitely helped him -- his understanding is at a much higher level now."
Expressing much gratitude for all who have guided and supported him through his apprenticeship, James said it means a great deal to be named GAPF Digital Apprentice of the Year and winner of the GAPF Scholarship.
"I am honoured. This is a significant highlight in my career," he says.
Describing his enjoyment at "being a part of such a creative industry" James says that he intends to further his skill set and knowledge within the printing and graphic arts industries.
Competenz Diploma of Print Management Student of the Year
Ross Craig, Jenkins Freshpac, Tauranga
Jenkins Freshpac Systems operations manager Kate Maguire says Ross's personal commitment to training and his role within the firm see him "truly deserving" of the Award.
"Ross has a great work ethic and will go the extra mile," she says.
"He is always willing to expand his skills in areas within the business such as food safety, lean manufacturing and most recently, health and safety. He is fast becoming an exceptional manager."
"It is seeing the likes of Ross achieve recognition at a national level that encourages his peers to aspire to achieve further milestones in their personal development."
Ross joined the firm as an apprentice in 2000. "I have been lucky that Jenkins has always given me the opportunities to grow and have some very forward-thinking people who are always open to sharing their knowledge and experience."
"Honoured" to have won the award and eyeing a future business degree, Ross commented that "success in the print industry is never isolated to an individual -- you need an environment that encourages the want to succeed and people that are willing to challenge the norm. I have had the luxury of working for and with both."