2019 Pride In Print Winners Announced: Apprentice of the Year, Trainer of the Year, Training Company of the Year.
2019 Pride In Print Winners Announced
09 May, 2019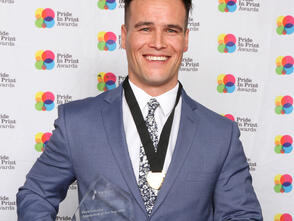 Stuff Petone press operator Josh Crawford has been named the overall PrintNZ Apprentice of the Year with Jenkins Freshpac Systems production manager Ross Craig winning the Trainer of the Year and Ovato the Training Company of the Year.
PRINT APPRENTICE OF THE YEAR WINNER
JOSHUA CRAWFORD, STUFF - WELLINGTON was named this year's Print Apprentice of the Year.
Mr Crawford expressed gratitude to his Stuff team and said he was "humbled".
"My partner Helena's uncle was a supervisor at the Dominion and I asked him if he could give me a job here. I was willing to do anything, I didn't care what it was, I really enjoyed working in print. Eventually Ricky Baker hit me up to start the apprenticeship. I was stoked when he did that and I wanted to do the best I could.
"I now have the opportunity to complete a Diploma in Print Management. I want to go as far as I can, even though I like being one of the boys, I like the pressure at work.
Stuff shift supervisor Hersha Werakoon added that Mr Crawford "has the ability to do go on from here and do anything he wants to do – he is pretty much the experienced printer now".
Commented Competenz trainer Malcolm Pearce: "From the beginning Joshua was impatient to succeed. I found his attitude refreshing."
The Top 5 Apprentices
The Apprentice of the Year Sector Winners -- whom automatically qualified for the overall PrintNZ Apprentice of the Year Award -- were:
BJ Ball Papers Packaging Apprentice of the Year -- Sanjay Daji (Stratex, Auckland)
Trust4Skills Reelfed Apprentice of the Year -- Joshua Crawford (Stuff, Wellington)
Print Finishers' Association Binding And Finishing Apprentice of the Year -- Tania Westbury (Inkwise, Christchurch)
Heidelberg Digital Apprentice of the Year (Joint) -- Hayley Young (James Print, Greymouth) and Sarah Knight (The Big Picture, Wellington)
BJ Ball Papers, our Premium sponsor, have supported these awards for many years and ensure that we can continue to celebrate our trainees, trainers and training companies and for that we are most grateful.
We also wish to make special mention of our Industry Training Partner Competenz. We work closely with Competenz to ensure that the industry has access to world class training across a broad range of topics – not just print related – and to encourage the industry to make use of these resources.
TRAINER OF THE YEAR WINNER
Ross Craig, Jenkins Freshpac System - Tauranga was named this year's Trainer of the Year.
Mr Craig, who has now amassed 19 years in the industry with Jenkins, said he was "quite proud" to have been named Trainer of the Year.
"It is a lot to do with the company – Jenkins provides me with a lot of opportunity," he said.
"I started as an apprentice myself, so through them I've managed to learn a lot and gain a lot of experience, and to pass it on is valuable I feel."
He is looking forward to advancing three current Jenkins apprentices as well as developing other exciting initiatives within the company.
Competenz trainer Grant Alsop described Mr Craig as a "very supportive" trainer.
"He allows the apprentice time for my visits with no time pressure," said Mr Alsop.
"He enjoys seeing the progress that they each are making and is very encouraging.
"He arranges regular meetings with them individually to discuss what units they are working on and plans specific tasks to assist with their training relating to these units, he goes through their workbooks and he checks and signs off on their written and observation assignments."
"He has a high expectation for the quality of work they provide," says Mr Alsop.
"He is also able to recognise when extra training is required and sets up the appropriate person and scenario to make this happen. He is very positive and complimentary to the apprentices when it is appropriate."
TRAINING COMPANY OF THE YEAR WINNER
OVATO was named this year's Training Company of the Year
"Ecstatic" was the term Ovato operations manager Craig Harrison used to describe his company being named Training Company of the Year.
"That is something we've been aiming for, for a long time," he said.
"The stuff we do for the industry is incredible – we get these guys in our factory and we let them loose on our machines."
Ovato managing director Simon Ellis said the award was "great recognition".
"We also do a lot of other training outside the apprentice training as well," he said.
"So at the moment we've been running advanced courses for a lot of the blue collar workers where English is a second language, so we've added that to our training programme and we've got really good results from it. It is all about the people.
Competenz Print Diploma Student of the Year
Clinton O'Loughlin of Custom Cutting Formes (Christchurch) was named the Competenz Print Diploma Student of the Year at the recent PrintNZ Graduation Ceremonies.
Independent trainer and assessor Mike Dawson says Mr O'Loughlin produced work "well over what was expected".
"He not only ticked all the boxes to get a pass, but the amount of research and quality information he added to his assignments made him stand out. I have been marking the assignments for the Diploma for over eight years now so can easily identify ones that stand out.
"The other area that made him stand out was his consistency over all the units he had to complete. From the very first assignment to the last two -- where I commented they were the best I had seen -- he went way over what the minimum requirement was. His assignment presentation was excellent which made the assignments a pleasure to mark."