Stratex, Oji Fibre Solutions and NZME star in PrintNZ Awards at Pride In Print
18 May, 2016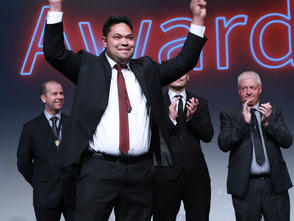 Stratex Group's Sione Taueli Tonga was bestowed with the coveted PrintNZ Apprentice of the Year Award, Oji Fibre Solutions Hamilton facility manager Tony Antoniadis was named Trainer of the Year and NZME took out the Training Company of the Year Award in a gala celebration at SkyCity on May 13.
In an emotional onstage presentation, an almost speechless Mr Tonga said he was overwhelmed that his drive to seize the life-changing opportunity presented by his employer had been recognised.
"I knew [the apprenticeship] was the only door open, I didn't think anything else would open for me, I knew that was my only chance and so I worked hard on it, I really did," he said.
"Now I've won this one it will be a good advantage for me to move ahead. A really good start for me. I'll keep working hard for the company and hopefully see if they will offer me another opportunity like this in the future and I'll take it with both hands."
Having spent a few years making ends meet in odd jobs after emigrating to New Zealand from Tonga as an 18-year-old, the now 32-year-old Mr Tonga said winning the award was a "dream come true".
"I always wanted a job with a career path that would give me the opportunity to give my wife and kids a better life and a job I could come home from and feel like I had achieved something."
Despite juggling family commitments (having three children) and church community work, Mr Tonga completed all assignments eight months earlier than required and "always made himself available for overtime", said Stratex print manager Ross Halliday.
"Sione is a self-motivated person and has a lot of drive to succeed in all tasks he takes on," said Mr Halliday.
"He also has a great sense of humour -- not a day goes by where you don't hear him busting out into song while he's working or sharing a joke with fellow staff."
Stratex general manager Stuart Wells added that Mr Tonga had showed unique application and diligence during his apprenticeship.
"He was seriously driven the whole time to finish early, that was one of his goals," said Mr Wells
"Early on he did say he wanted to be Apprentice of the Year -- he was true to his word and it is not a surprise given his drive."
Mr Wells added that, having embarked upon a strategic move up from the "low-end, low-quality" sector of the marketplace in 2012, Stratex has invested in high-end print equipment and has implemented a programme to train printers through to higher qualifications.
With all five Apprentice of the Year Finalists potentially deserved winners, PrintNZ general manager Ruth Cobb said Mr Tonga's initiative to troubleshoot and find innovative solutions in the factory made a key impression on judges.
"He talked about the printing drums -- how heavy it was to have to wash the drums -- and found a solution to that which meant it was not such a chore," said Ms Cobb.
"He talked really enthusiastically about the Westgold Butter winning work -- what a challenge it was for the business to produce that job and how they got stuck in and found a solution that meant the work could be printed in New Zealand.
"It was good to hear that talk from someone who was newly qualified. Sometimes it is about being prepared to have input, so for me that was a tipping point as to how involved and really enthusiastic he was about the work he printed."
Rapt with being bestowed with the PrintNZ Trainer of the Year Award, Oji Fibre Solutions Hamilton facility manager Tony Antoniadis said training staff had become a particular passion in recent years.
"It has been extremely rewarding for me personally, for the staff and for the plant," he said.
"We have very little absenteeism and very little staff turnover.
"We have had a lot of semi-skilled or unskilled people who joined with few qualifications and I have seen the joy and excitement they have received from gaining their first certificate.
"David Eagles [from Competenz] was great in setting us on the pathway. I wanted to do something about health and safety and found out about NZQA and Unit 340.
"All our staff now start the training scheme on Level Two and it has been so successful that our parent company is looking to adopt the system."
NZME Ellerslie operations manager Russell Wieck was delighted at his firm winning the Training Company of the Year Award for the third time in five years.
"I think it is the culmination of a lot of hard work," he said.
"The culture is to train, we believe there is a future for the industry and we're going to keep pushing and promoting for the industry and bringing young people through.
"We expect to be a finalist for sure and every win is a bonus, and if we can win every year then so be it."
Mr Wieck said NZME seeks to go "over and beyond" the parameters of the apprenticeship system in its internal training programme.
"We push the barriers within ourselves. We look to train specifically for our needs within the industry."
He added that it was "extremely rewarding" to see employees flourish through training.
"It's a journey we've been on through our own careers and we try to emulate that through the new people.
"We feel the culture within the business is that no matter what the subject matter is, the training is there and supported, and the people will take onboard whatever is required -- whether it is OSH, technical or business principles -- it doesn't' matter.
"I just want to thank the industry for the opportunity. There is a lot of life left in print, we are all for getting on board and seeing how far we can go."
Sione Taueli Tonga's delight at winning PrintNZ Apprentice of the Year.
PrintNZ GM Ruth Cobb and NZME's Russell Wieck and Dan Blackbourn - PrintNZ Training Company of the Year 2016
PrintNZ Trainer of the Year winner, Oji Fibre Solutions Hamilton facility manager Tony Antoniadis.